The Redbud Tree House Cabin
River of Life is excited to offer this brand new, luxurious, treehouse cabin in the Ozarks.
This cabin is situated in the beautiful Ozarks and open year round for reservations. The open air deck offers an excellent view. The Redbud Tree House Cabin offers the perfect lodging for a relaxing vacation.
The Redbud Cabin sleeps up to 6, with 1 master bedroom (1 King size bed) and a loft bedroom (2 Queen size beds).
This cabin features a fully equipped kitchen, with a large refrigerator, microwave, stove, and coffee maker. Heat for the winter, AC for the summer and ceiling fans will give you the comfort you desire. It also has an oversize whirlpool tub for your relaxation.
Access to the "miracle mile" of rainbow trout fishing, the finest in the Missouri Ozarks, is included. The ROLF grounds and next door Mark Twain National Forest offer numerous hiking and nature sightseeing trips for all skill levels. Plus, there are many Missouri sightseeing attractions nearby. Plan a float trip down the North Fork River while you're here.
Click HERE for all Lodging & Rates
Treehouse Cabins at River of Life Farm
1746 River of Life Drive ~ Dora, MO 65637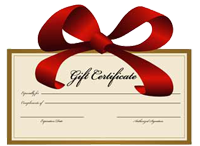 Purchase a Gift Certificate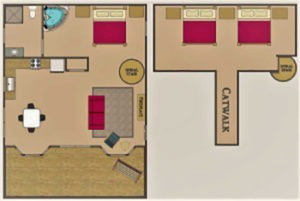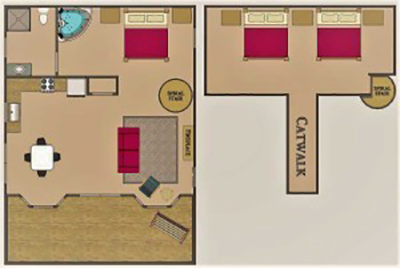 Rates:
$289 per day for the first 4 people
Maximum Occupancy 6
$25 per each additional adult
$10 per each child 5-11 years
Minimum occupancy rates may apply
on weekends and holidays (4).
(Prices do not include MO sales tax)
NOTE:  All online reservations require
a 2 night minimum stay.
If you desire 1 night lodging only,
please call for availability.
Note:
ALL cabins have a Charcoal BBQ.
Please bring your own charcoal and lighter fluid.
ALL cabins have full kitchens with eating accessories.
Please bring your own paper products if desired.
ALL cabins have towels, bedding & extra blankets.
Bathrooms are stocked with paper.
NO PETS Please. See our policies.
Reservations:
A deposit of one nights lodging, or one-half of
the total lodging amount
(whichever is larger), is required.
This can be secured by credit card,
or by personal check.
Cancellation Policy: 
If the reservation is cancelled 30 days prior to arrival,
the deposit will be refunded less a $25. or 5% of deposit; which ever is greater.
No refund if cancelled less than 30 days in advance
(unless the accommodations can be re-booked to another party)
Check in & Departure Time:
Official time for check in is 3 p.m.
unless your cabin is clean & ready before then.
Checkout is 11 a.m. unless there is not a check in party
waiting for the cabin.
In this case we will work to give an extended check out
Visit our Policies Page