Missouri Trout Fly & Spin Fishing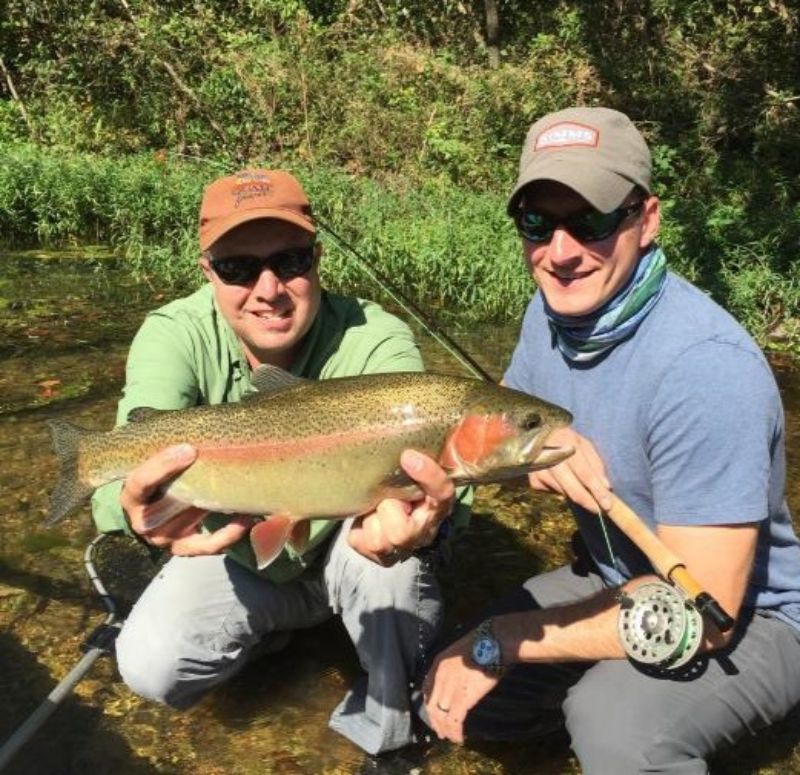 Missouri Trout Fly & Spin Fishing
The North Fork River is ranked in the Top 100 trout streams in the United States. Trout Fishing on the North Fork River is open ALL YEAR with many lodging options available. Choose from one of our secluded Treehouse cabins.
Is Spin Fishing legal in the Blue Ribbon area?
YES!
While trout are not native to Missouri, Rainbow trout were introduced in Missouri waters in 1882 and are restricted to a few areas of the Ozarks.
The North Fork of the White River not only sustains trout, but is one of the few waters in the Ozarks that supports a naturally reproducing population of wild Rainbow trout. Fly fishing enthusiasts from all over enjoy the tranquility.
The North Fork River has both Wild Trout and Special Trout Management areas (formerly the Championship Trout Management Area).
The North Fork is a limestone bottomed river, fed by multiple cold springs. Because it's somewhat off the beaten path of other Ozark rivers, the North Fork may be sometimes enjoyed in complete serenity.
The prime conditions of the North Fork River also produce trophy size trout, of both Rainbow and annually stocked Brown trout.
The North Fork River can be divided into 3 differing sections. The upper part of the river sports excellent Smallmouth, Sunfish, and Rock Bass (Goggle-eye) fishing. This area starts at the source, within the Mark Twain National Forest, and goes to Rainbow Springs where the habitat of the river changes.
The upper section of the North Fork is located predominately in the Devil's Backbone region of Mark Twain National Forest and features warmer water than the rest of the North Fork. This area has several public access points including Topaz, Hebron, and Twin Bridges. Fish are commonly taken by fly fishing and spin fishing.
When you come around a bend in the river and the size of the North Fork suddenly doubles, you are almost at Rainbow Springs. Stick your hand in the water and see how much colder it is.
Rainbow Springs [AKA Double Springs] dumps an average of 82 million gallons of 56-59 degree water into the North Fork River daily, with a recorded high of 150 million gallons in a day! This effectively doubles the size of the river.
For fly fishing for Missouri trout we offer guide services and float services. For spin fishermen seeking bass and panfish we offer float services. We are located in the heart of the Wild Trout Management Area of the North Fork of the White River, Missouri Ozarks. Included is over one mile, the "miracle mile," of private wade fishing for wild rainbows, the best Missouri has to offer.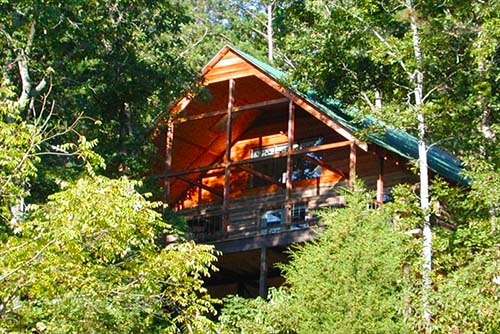 Missouri Treehouse Lodging
Treehouse Cabins offers many lodging selections to choose from. We can accommodate from 1 to 14 guests. Plan your next vacation, honeymoon, anniversary or romantic weekend in our luxurious treehouse cabins nestled in the scenic Ozarks.