Missouri Rainbow Springs Lodge
Treehouse Cabins / River of Life Farm is excited to announce that it is offering for nightly rental Rainbow Springs Lodge, a historic fishing lodge on the banks of the pristine North Fork of the White River.
The lodge is a short distance upriver from River of Life on the "miracle mile" of river that boasts some of the finest trout fishing in the Missouri Ozarks.
The lodge has been privately owned for nearly half a century, but the family has decided to open it to the public through River of Life.
The lodge is an architectural jewel with touches of Frank Lloyd Wright and the Craftsman style inside and out. River of Life has preserved the artifacts and furniture that make the lodge special. The lodge is 4,500 square feet with four bedrooms and five bathrooms and will house up to 14 guests. The centerpiece is a wood‐and‐stone fireplace that soars to the ceiling through both floors.
The lodge is named for Rainbow Springs, which gushes cold, clear water from the base of a bluff, creating two spring branches that empty into the North Fork. The spring is a stone's throw away from the lodge, which has a patio and upper deck with views of the water. Visit Rainbow Springs Lodge and let the sound of rushing water lull you to sleep each night.
Whether your looking for a secluded fly fishing lodge or a tranquil Missouri Ozarks family vacation, the newly added Rainbow Springs Lodge has what you need.
Featuring all the modern comforts of home including, a fully equipped kitchen, with a large refrigerator, microwave, stove, and coffee maker are there for your needs. Ceiling fans and air conditioning add an extra touch to help you relax.
It's the perfect Missouri fishing lodge for your trout fishing vacation. Not too far away is access to the "miracle mile" of rainbow trout fishing, the finest in the Missouri Ozarks, is included. The North Fork is listed as one of the Top 100 trout fishing streams in the US.
Enjoy your day of fishing, hiking or canoeing, and then sit out on the deck and take in the clear night sky.
The 350 acres of the River of Life Farm / Treehouse Cabins grounds and next door Mark Twain National Forest offer numerous hiking and nature sightseeing trips for all skill levels. Make your Reservation today!
Cabin Quick View
Covered Deck
Fireplace
Up to 14 Guests
Fully equipped kitchen
A/C equipped
Charcoal Barbecue
Click here to read the Springfield Newsleader's article



Click HERE for all Lodging & Rates
Treehouse Cabins at River of Life Farm
1746 River of Life Drive ~ Dora, MO 65637
Purchase a Gift Certificate
Check out the floor plan! The wide-open design of the Lodge, with an abundance of windows, provides an ideal setting for enjoying "eye-popping" views of Rainbow Springs and the beautiful Ozark Mountains that sit right outside your doorstep. If you're looking for a historic fishing lodge, this is it!
Click on images below to enlarge photo.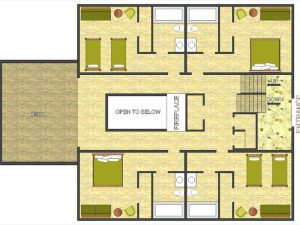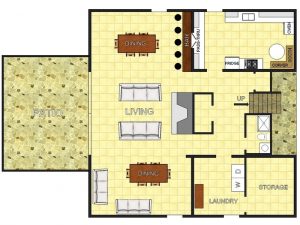 Rates:
$850 per day for up to 8 people
(note: 2 night minimum reservation)
$50.00 each additional adult per night
$25.00 each additional child under 12 per night
Maximum occupancy 14
(Prices do not include MO sales tax)
NOTE:  All online reservations require
a 2 night minimum stay. 
Note:
ALL cabins have a Charcoal BBQ.
Please bring your own charcoal and lighter fluid.
ALL cabins have full kitchens with eating accessories.
Please bring your own paper products if desired.
ALL cabins have towels, bedding & extra blankets.
Bathrooms are stocked with paper.
NO PETS Please. See our policies.
Reservations:
A deposit of one nights lodging, or one-half of
the total lodging amount
(whichever is larger), is required.
This can be secured by credit card,
or by personal check.
Cancellation Policy: 
If the reservation is cancelled 30 days prior to arrival,
the deposit will be refunded less a $25. or 5% of deposit; which ever is greater.
No refund if cancelled less than 30 days in advance
(unless the accommodations can be re-booked to another party)
Check in & Departure Time:
Official time for check in is 3 p.m.
unless your cabin is clean & ready before then.
Checkout is 11 a.m. unless there is not a check in party
waiting for the cabin.
In this case we will work to give an extended check out
Visit our Policies Page