The Eagle's Nest Lodge
The Eagle's Nest lodge has 2 private bedrooms and is located with secluded North Fork River access in the heart of Treehouse Cabins 350 acres. 
Enjoy the spectacular view overlooking the North Fork River from the porch swing on your private deck. Or walk a few steps to some of the finest Trout waters in America.
The fully equipped kitchen provides all the comforts of home in a beautiful wilderness setting. The stone fireplace completes the atmosphere for the perfect trout lodge. With 4 Queen beds, the Eagle's Nest Cabin can comfortably sleep up to 8 people.
The Eagle's Nest lodge has a private second story deck overlooking the beautiful North Fork River, and offers 1000 sq. ft. of private cabin, complete with a full kitchen and bathroom.
This cabin is the perfect Missouri trout lodge, offering an ideal location and atmosphere for your trout fishing or family vacation.
The Eagle's Nest Lodge is the perfect central location for combination cabin/camping get-a-ways. Its close proximity to the campground, shower house/restrooms, and full hook-up R. V. sites makes it the perfect place to host your large gathering.
Do you need some lodging accommodations for certain members of your group? The Eagle's Nest Lodge is located next to the campgrounds for easy access and is OVER the first floor camping showers and restrooms.
NOTE: If you are renting just the cabin, please be advised that the restrooms and showers located below are open to our campground and RV campers.
Please call early for your lodging reservations at the Eagle's Nest Lodge on the North Fork River.
Click HERE for all Lodging & Rates
Treehouse Cabins at River of Life Farm
1746 River of Life Drive ~ Dora, MO 65637
Purchase a Gift Certificate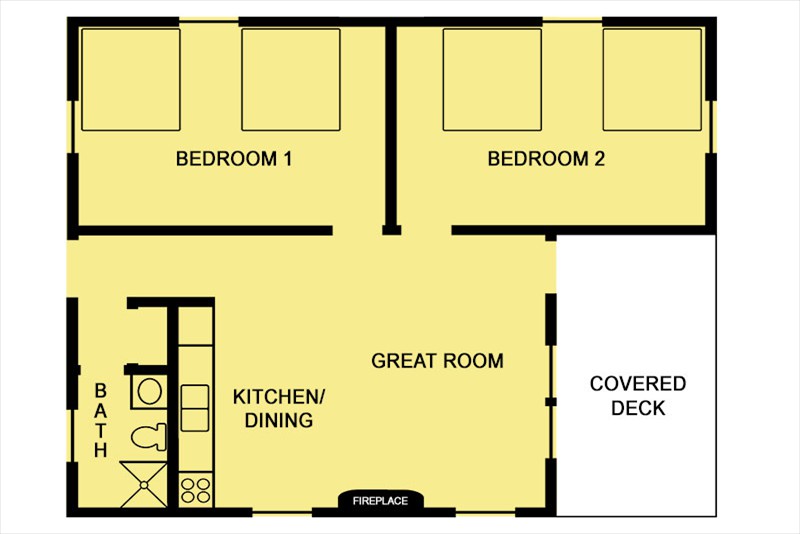 Rates:
$279 per day for the first 6 people
Maximum Occupancy 8
$25 per each additional adult.
$10 per each child 5-11 years.
Minimum occupancy rates apply 
on weekends and holidays (6).
(Prices do not include MO sales tax)
NOTE:  All online reservations require
a 2 night minimum stay. 
If you desire 1 night lodging only,
please call for availability.
Note:
ALL cabins have a Charcoal BBQ.
Please bring your own charcoal and lighter fluid.
ALL cabins have full kitchens with eating accessories.
Please bring your own paper products if desired.
ALL cabins have towels, bedding & extra blankets.
Bathrooms are stocked with paper.
NO PETS Please. See our policies.
Reservations:
A deposit of one nights lodging, or one-half of
the total lodging amount
(whichever is larger), is required.
This can be secured by credit card,
or by personal check.
Cancellation Policy: 
If the reservation is cancelled 30 days prior to arrival,
the deposit will be refunded less a $25. or 5% of deposit; which ever is greater.
No refund if cancelled less than 30 days in advance
(unless the accommodations can be re-booked to another party)
Check in & Departure Time:
Official time for check in is 3 p.m.
unless your cabin is clean & ready before then.
Checkout is 11 a.m. unless there is not a check in party
waiting for the cabin.
In this case we will work to give an extended check out
Visit our Policies Page